Our skilled and experienced in-house memorial masonry team, Thomas Brown Memorials, can create a lasting memorial for your loved one.
We can help you choose a headstone or marker, and advise you on any regulations* which you may need to take into account when making your selection.
We offer a wide range of styles and designs, all of which we can talk you through in detail if you'd find it helpful, you can see more information in our brochure.
There are many elements to a memorial – such as the type of stone and style of lettering used that can be selected, so that you can create a truly fitting memorial.
*Some cemeteries have certain restrictions relating to the size, material used and style of memorial they allow, we'll advise you where this is the case and guide you through the types of memorial allowed for that site.
If you have any questions, just pop in to your local Scotmid funeral home, or call us on 0800 996 1927.
Memorial choices
Our experienced stonemason
Our experienced stonemason only works for us and has been preparing headstones for many years, he is very proud of his work, and ensures the it is completed to the highest quality.
If there is a headstone that you would like, which we don't currently offer, we'll be happy to check to see if we can produce it for you.
Headstone wording
We understand that choosing the wording for your loved one's headstone is something you'll want to take your time over. Our experienced team will give you plenty of help and guidance to choose something that feels really personal and special.
The words on the headstone will, of course, be completely up to you. These are just a few suggestions in case you are in need of some inspiration.
In loving memory of
We will remember them
Remembered with a smile
Always in our thoughts
Headstones, Vases and Plaques
All our vases can be in your choice of colour with either a gold or silver flower vase. We can add your choice of wording.
Our plaques can come in a range of colours with polished, sanded or rustic sides. Any design can be included and they also come with or without a wedge.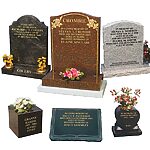 Our other masonry services
Free Quotations;
We will give you an itemised quotation and a detailed lay out of the design, for any headstone work you require with no obligation.
Restorations;
We will go to cemeteries to check headstones and see what restoration work is required before giving you a detailed quotation for the necessary work.
Cleaning;
We clean your headstone in place to get the best possible results.
Added Inscriptions;
We will visit the cemetery to put your additional choice of words on your headstone.
Re-gild/paint;
We will visit the cemetery to restore the lettering that is already on your headstone.
Questions & Answers
What to do next
If you'd like further information on headstones and memorials, call us on 0800 996 1927 or visit any of our Scotmid funeral homes.
Contact us