Arranging a funeral can be a difficult time, you can contact us 24 hours a day, so please call us at anytime.
Our offices are open from 09:00 to 17:00 Monday to Friday, outside of office hours just call 0800 996 1927 or the office number and your call will be directed to our out of hours service.
We'll guide you through all the steps and choices you have. We're experienced in arranging funerals for all, regardless of religion, faith or culture.
Dealing with the loss of a family member or friend is difficult, but knowing what to do and who to contact can make dealing with the arrangements a little easier.
It's usually a family member or friend who makes the funeral arrangements – there's no rules about who can or can't do it, but whoever it is they'll need to make certain decisions and arrangements. They'll also be responsible for paying for the funeral.
When you contact us about making funeral arrangements, we'll arrange to meet you to talk through what you want – this can be at one of our funeral offices, or we can come and meet you at your home, or at your solicitor's office.
Planning a Funeral
We'll help you to decide what sort of funeral it will be. here are some things to consider:
Will it be a cremation or burial?
Where will the funeral take place:
A church , a crematorium, a cemetery chapel beside the lair, or somewhere else?
Would you like a minister or  civil celebrant to take the service?
Will the service be religious or non-religious?
Non-religious funerals can be conducted by a Humanist, civil celebrant, or by family and friends. They tend to focus on the person's life, personality, and their relationships with other people.
Cremation or Burial?
The choice between cremation and burial may be influenced by many factors such as religion, the wishes of the person who has died or family tradition.
Cremation
A full service or shorter committal?
All crematoria have chapels. You can either hold the full service there, or just have a short committal at the crematorium after having the main service somewhere else, such as a church.
Webcast or recording the service
Most crematoria have cameras, so that people who can't be at the service can watch it via webcast or later on DVD. We can advise if this is available locally.
More information
You can read more information about cremations, and the various options available on our website.
Burials
People are usually buried in a Kirk yard or cemetery, and you can choose between using an existing liar or purchasing a new one.
Existing lairs
If there's already a family lair you'd like to use, we'll need to see all the documents you have for it. Don't worry if you can't find the paperwork, we can help. Then we'll need to check that there's space in the lair for this burial.
Burial costs
There are charges for buying new lairs, opening lairs and headstones. These charges vary by area, but we'll tell you exactly how much.
Headstones
Our experienced stonemason can design and prepare a headstone for a new lair or add an additional inscription to an existing memorial.
Other kinds of burial
There are other options too, including burial in woodlands, vaults or at sea. At woodland burial grounds, instead of using headstones, people may be commemorated by plating trees or putting up a simple wooden marker.
More information
You can read more information about burials and the various options available on our website.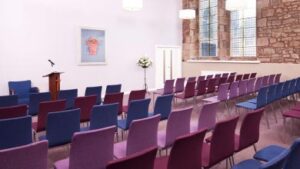 Additional Information and Support
From what happens when a person passes away, to who you need to contact and the information they require, to helping you understand the choices available when planning a funeral we're here to help you every step of the way.
You may also find the information booklet What to do after a death in Scotland useful.
Cruse Bereavement Scotland
We are delighted to support Cruse Bereavement Scotland in the important work they do providing professional support for bereaved adults, children and families across Scotland.
You can contact Cruse Bereavement Scotland on 0808 802 6161 (calls are free) available Monday to Friday 9am to 8pm and weekends 10am to 2pm.