Making the day personal helps to reflect the interests and personality of the person, of course some people take comfort in a traditional funeral service,
From the choice of music to where the service is held, many elements of the day can be tailored to your wishes – or those of the deceased.
Whilst there are some restrictions on what you can do – there are some things that can't be left in a coffin if you opt for cremation, for example – you can do a lot to make the service and how you say goodbye as personal as you wish.
If you'd like something unusual ask us about it and we can advise you on what's possible and how it can be achieved. Don't feel that you can't ask about something you or they would want to be part of the day –there's no "right" or "wrong" way to say goodbye, only what's right for you.
Music
Music is important to many people – and certain songs can hold special memories – so choosing the music for the service can be a simple way of making it more personal.
The music you choose doesn't have to be religious or classical – it can be anything that means something to you and your family.
In a recent report on songs played at funerals, "My Way" was one of the most popular choices alongside "Time to Say Goodbye" and Robbie Williams' "Angels". Perhaps more surprisingly, Monty Python's "Always Look on the Bright Side of Life" and "Highway to Hell" by AC/DC were also in the top 30 – so your choice of music doesn't have to be limited to hymns or ballads.
Once you've chosen the music we'll take care of all the arrangements, whether that's making sure that the correct CDs are at the venue or booking musicians to perform live.
Funeral Flowers
Your choice of flowers is another way that you pay a personal tribute. Whether you choose a wreath or arrangement which includes their favourite flower or choose a more personalised tribute such as a name or football shirt, there are few limits to what can be done and we can help you explore the options.
Many people prefer to have family flowers only and ask that friends and colleagues make a charitable donation, we can help arrange this.
The Coffin
Choosing the coffin can be one of the most difficult and upsetting parts of planning a funeral. Whilst it's natural to want the very best, you shouldn't feel that you are obliged to choose the most elaborate or expensive coffin available.
Your choice should reflect the wishes or tastes of your loved one, as well as your budget (no one would want you to be worried about money at this difficult time). If, for example, your loved one had simple tastes then a simple style would perhaps be the most fitting choice.
As well as traditional wooden coffins, you can also choose more contemporary styles such as cardboard, willow or wool. We also offer a range of picture coffins, which can be customised with your own photographs and designs.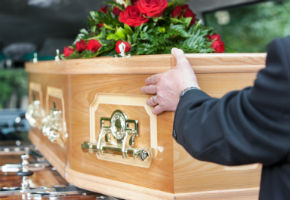 Funeral Vehicles
It's natural to want their last journey to be special – and that can mean different things to different people.
Some people wish the cortege to take a certain route, passing places – perhaps a former workplace or favourite pub – that the deceased had connections with.
The choice of hearse can also be tailored to your wishes. In addition to our Mercedes hearses we also have a special vintage hearse.
Along with our traditional hearses we can also arrange a horse drawn hearse, or motorcycle hearse.
Working out how many limousines could be needed is something we can help you with, so just ask and we'll work out seating and numbers, so you don't need to worry.
You can tailor as many – or as few – elements of the service as you wish; it really is up to you and the wishes of your loved one.