More and more people are choosing to split and save part of their loved one's ashes, this can be so members of the family can scatter them in different places or use them to make a personal keepsake.
Within our range of Urns and Caskets, we also have metal urns and keepsakes available. These metal urns and keepsakes for ashes come in an array of colours, so please ask us if you have a specific colour in mind, and we can see what's possible.
Metal Urns
Our brass urns are made by skilled artisans in Northern India, using traditional methods to mould and carve the metal into intricately designed pieces. The ashes are placed into the urn by our team through a secure lid. These lids open and close like a jar, giving you extra peace of mind that ashes would not spill if the urn were knocked over or accidently dropped.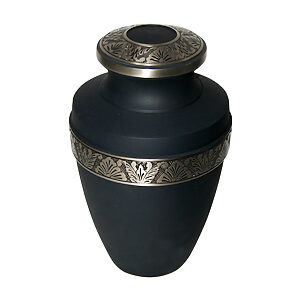 Keepsake Pendants
While you can place your loved one's ashes in an urn, you can also choose to carry them with you by placing a small amount into jewellery. Our range of stunning keepsake pendants are made from sterling silver to the highest standard in the USA. They are beautiful pieces which can all discretely house a small amount of the ashes, keeping a loved one close.
Personal Jewellery
We also work closely with Ashes into Glass who make modern memorial jewellery such as, using cremation ashes to create a crystal that is then set in a ring, pendent or cuff links. The finished pieces are beautifully subtle and, because each item uses only a small amount of the ashes, pieces can be created for as many family members as you wish.
Whatever your requirements are for your loved one's ashes, just chat to your funeral arranger who will be able to help.
Click for details of our Urns and Keepsakes